Local youth explore world of esports at Mavs Academy Gaming Camp
Tamara Jolee June 20, 2022
Mavs Academy gaming camp director Cory Carter went down the roster one-by-one and enthusiastically shared unique insights about all the camp participants. He's watched the kids flourish all week in character building and competition at the first Mavs Academy Gaming Camp of the summer.
The Dallas Mavericks, in partnership with Mavs Gaming, hosted its second in-person gaming camp ever this week, and the energy was pure and palpable.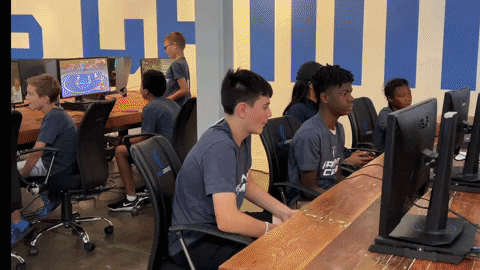 Laughter rang out as the kids hit the sticks and then raced to a ping pong table, thrilled to embrace every opportunity available here.
All the campers had unique stories that Carter proudly shared.
There's the one young boy who arrived timid and shy, but now he sits in front, leading the pack of his new friends. Another little girl drops her controller and swoops around the room to celebrate a victory. She's confident and assured because every athlete is on an equal playing field.
Perhaps the most inspirational story, Carter said, is the young camper with autism who loves NBA2K because he can socialize with peers through a common interest — video games. He's also able to improve his motor skills and reaction time and dream big.
"He has such a great attitude and wants to be in the NBA2K League," said Carter, who is the Mavs Academy's elite youth basketball coordinator.  "We believe in him and do our best to ensure he's prepared and nurtured the right way to push him towards his goals."
The young boy, just like the others, is entirely accepted and celebrated at Mavs Gaming Camp.
The event took place under the bright lights at the world-renowned Mavs Gaming headquarters, home of the franchise's professional NBA2K team. The state-of-the-art facility boasts the best technological gadgets esports has to offer.
Mavs Gaming is the official NBA 2K team affiliated with the Dallas Mavericks. Both entities work hand-in-hand and the Mavs Academy oversees the gaming camps just like it does for youth basketball and dance.
Carter said he fostered an atmosphere of trust and sportsmanship this week, and the young athletes strengthened their skills while having fun. As a gamer himself, it's clear that the camp merged a few of his greatest passions: basketball, video games and youth development.
"It's interactive, engaging, and they're learning the game as well," he said. "They learn how to move with the ball, how to move without the ball. They learn different matchups, play with someone, improving their communications, interactions, and social skills. They understand how supporting your teammate is just as important as individual play. So, they walk away better at gaming and become better teammates."
Mavs Gaming standout center Jerry "Sick One" Knapp is one of the most decorated NBA 2K players in league history. He arrived Friday to surprise the campers and he gave them key insight into the professional gaming world. He said if he could go back in time, he would focus more on having fun than the technical aspect of the game.
"My advice is to take the game seriously, but not too seriously," said Knapp, a 2020 All-NBA First Team member. "Enjoy your time because you'll get better if you play the game naturally. If you're not having fun, then it doesn't matter."
Gaming is more unique than any other sport because children can still play with each other when they get home.
Esports can be isolating without proper social interaction, so Knapp said it's crucial to solidify young people's friendships and community like the Mavs have to offer at camp.
The billion dollar gaming industry is considered one of the fastest-growing sports among colleges nationwide, and it's such an opportune time for young people to get in on the action. Colleges all over the country are racing to create more esports curriculums and degrees because the industry has accelerated so rapidly.
As one parent told me, this is an investment into the future of their child with limitless possibilities.
The pandemic is one primary reason the already growing esports community ultimately exploded to new heights in the last three years. In fact, over 400 million unique gamers got, well, in the game.
Carter said many players here this week are playing against peers for the first time in person. He said it ignited a ton of excitement for the campers, who love to have friends who understand "their world."
"The highlight of my week is watching how the kids pick each other up," Carter noted. "If a child loses a match, I see them going over and patting the kid on the back and encouraging them. I've really enjoyed watching them form friendships and then walk away each day with a smile. The kids love to play and compete."
The youth are playing in the same hub where the best athletes compete each season with Mavs Gaming. It would be like having camp on the practice court of the Dallas Mavericks. The energy and excitement can be felt from the moment anyone steps into the gaming hub. Knapp shared that having camp at the facility gives the youth a sneak peek into his world.
"When we step on the stage, it's exciting and real out there," said Knapp, who said he plays an average of 8-10 hours daily. "Anyone who plays 2K has an opportunity to make it. Everyone thinks you get in [to the NBA 2K League] on stats, like having a lot of points and having a lot of rebounds. But your win percentage is the number-one qualifier to get in and make the league."
One grandparent who attended the event also pointed out representation's importance because esports promotes an inclusive environment that unifies people regardless of race. He was happy to see his grandson surrounded by camp leaders who represent diversity.
He decided to show up early and watch his grandson just to show support.
"I just like watching his world," the grandfather said. "Smiles are universal, and you can tell they're having fun. It's been wonderful for my grandson."
Carter said the camp was a great way for the franchise to spotlight competitive gaming to a new generation.
"I would encourage everyone to join this camp," he explained. You're not only going to create friendships, but you'll also learn the game of basketball. It's a great way to meet people, network and have fun."
The Mavs Academy will host the Rocket League session from July 20-22 and spots are still open. Click here to learn more.
Don't delay if you can. After what I witnessed today, this camp is about to be the next big hit in North Texas.